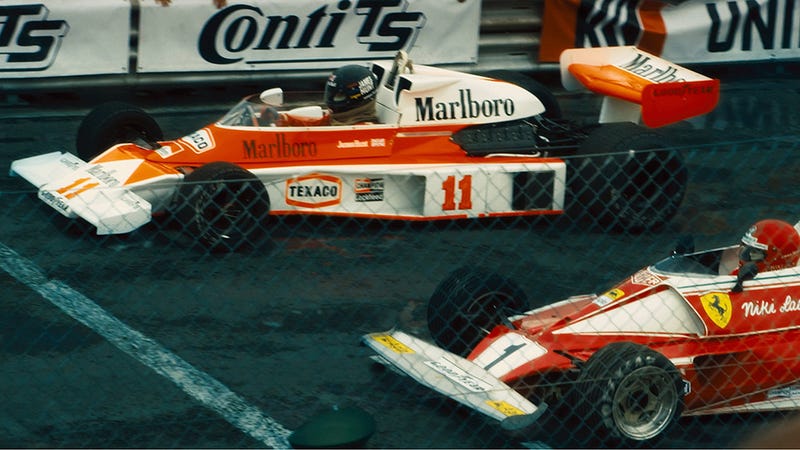 While Jalopnik had its (successful) film festival, the boys at Autoweek piled into their dad's Country Squire, bought Red Vines and Whoppers, and snuck into Rush at the Cineplex 12 outside of town. (Some of us aren't of legal R-rated movie watching yet, but it's ok, we know the guy at the ticket window. Davey G. Johnson had to buy a ticket for Planes.)
Two hours, three stood-up dates, and approximately 4,500 grams of sugar later, here are our thoughts:
West Coast Editor Mark Vaughn: "Hunt spends every free moment knee-deep in a dalliance. Lauda spends it elbow-deep in the chassis, re-engineering his car. The character contrasts are as intriguing as the overblown rivalry. At first you think you like Hunt more, because he simply seems to be more likeable as the life of the party. But after a while you see Lauda's character as the stronger and more admirable of the two, even though he glowers just a little too much."
Associate West Coast Editor Blake Z. Rong: "Director Ron Howard and scriptwriter Peter Morgan are just as comfortable exploring unfamiliar territory as any of us could have accomplished. Because at this juncture of talent money, and nostalgia, Rush is the highest tribute we can get to our strange and depraved hobby of holding fast to four-wheeled machinery; a rare feat from Hollywood powerhouses who think like us even when they don't always think of us."
Racing Correspondent Steven Cole Smith: "We have to remember that if we're on this Web site, we're all members of this church—some of us card-carrying voices in the choir—so we go into the theater with some knowledge of Formula One in general, probably Lauda and Hunt's tale in particular. So far non-fans seem to be taken with the tale too, which suggests Howard has done his job in making the sport accessible enough for newcomers to sign on quickly. You don't have to know anything about racing to appreciate Rush, yet those of us who do never suffer from remedial backgrounding."
Senior Editor At Large J.P. Vettraino: "Don't bother with the best-racing-film-ever thing. Be happy that a respected director has attempted to capture what lures us to the game and take it mainstream. If all films are rated with five stars, Rush probably gets three."
Senior Motorsports Editor Mac Morrison: "For those who do know what happens story-wise, there are little Easter eggs to enjoy that the average viewer will miss. Vettraino—who covered racing for years at Autoweek—and I sat there pointing, whispering and laughing (in a positive way) at the appearance of period-correct road cars, Grand Prix legends like Tyrrell's six-wheeler, Clay Regazzoni's unmistakable personal style, brief glimpses of other drivers' names and helmets, the character that was Lord Hesketh...there's a good helping of things for geeks to geek out on."
Associate Motorsports Editor Mike Larson: "Kudos to Ron Howard and Co. for making a somewhat-historic movie that still has an entertaining plot. However, for a 'racing' movie, I would have liked to see more, well, racing. The movie does stand up well on its own, and when there was racing action, the visuals were breathtaking, especially Lauda's fiery crash in Germany. Overall, it's a pretty good movie and I'd definitely watch it again."
Associate Editor Jake Lingeman: "Rush plays out more like a familiar movie drama than an all-out F1-geekfest like the Senna documentary. There was a good amount of racing, enough to keep a fan occupied, but it wasn't so technical that a casual or non-fan would be bored."
Senior Online Editor Rory Carroll: "Making a Hollywood movie must be the most awful, soul crushing experience that a creative person can have. It's hard to imagine any endeavor outside of maybe designing a car where the product is more subject to the whims of humorless accountants and soulless marketers. So, the fact that this one turned out pretty good is really a triumph."
Read the rest of our opinions at Autoweek where we explain the movie, Ebert-style, in even more scintillating detail.