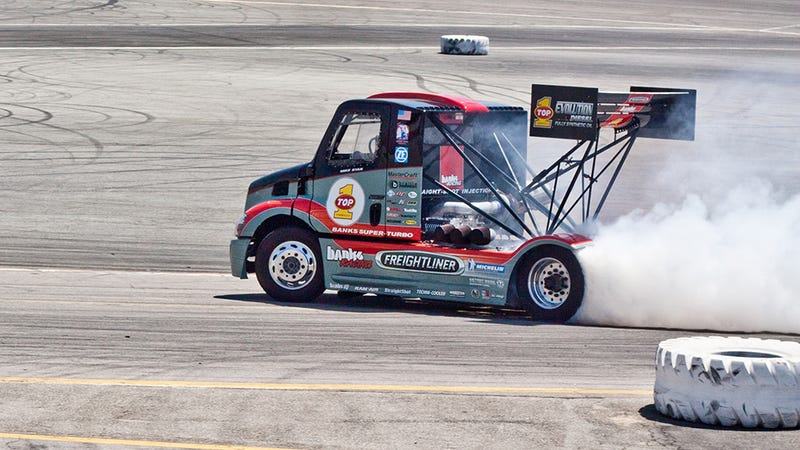 Mike Ryan is primarily a stunt driver and stunt coordinator in the movies. You've seen his work in everything from "Fast & Furious 6" to the Ninja Turtles. But he is also a truck racer, not Craftsman trucks or Trophy Trucks or even the Coors Race Truck Challenge for mini trucks. Ryan races a semi truck—a Freightliner, the kind you see tramping down those interstates hauling lumber and hogs, their drivers wearing cowboy hats and feed caps and listening to country music.
Big, huge trucks.
While Ryan doesn't pull a trailer when he races his truck, he does haul. He drifts it against conventional drifters, which is pretty unconventional in itself, but he also races the Freightliner in hill climbs. Again, not just any hill climbs—try the 156 turns leading up to the 14,114-foot summit of Pikes Peak, where he is heading as you read this.
Needless to say, this is a hell of a truck. It's a Detroit Diesel DD60 turbocharged straight six engine, all 14.7 liters mounted 1 foot down and 6 feet back to make it, technically, a mid-engine racer...though racer isn't a term you'd likely use for this beast. It weighs 10,000 pounds. Last year, it produced 2,200 horsepower. This year, Banks added an 8.3-liter Lysholm compressor to eliminate pulses during crank rotation. Combined with the water-methanol injection, it should produce 5,000 lb-ft of torque, Ryan estimates, and somewhere around 2,400 horsepower.
We got to ride in this beast, though at Irwindale Speedway and not around the Pikes Peak route that Ryan wants to complete, this year, in 11 minutes. What's it like riding in a 2,400 horsepower mid-engined race truck? A lot of supercharger whine, for starters.
Check out the full story at Autoweek.com for the manly details, which will most likely put hair on your chest.